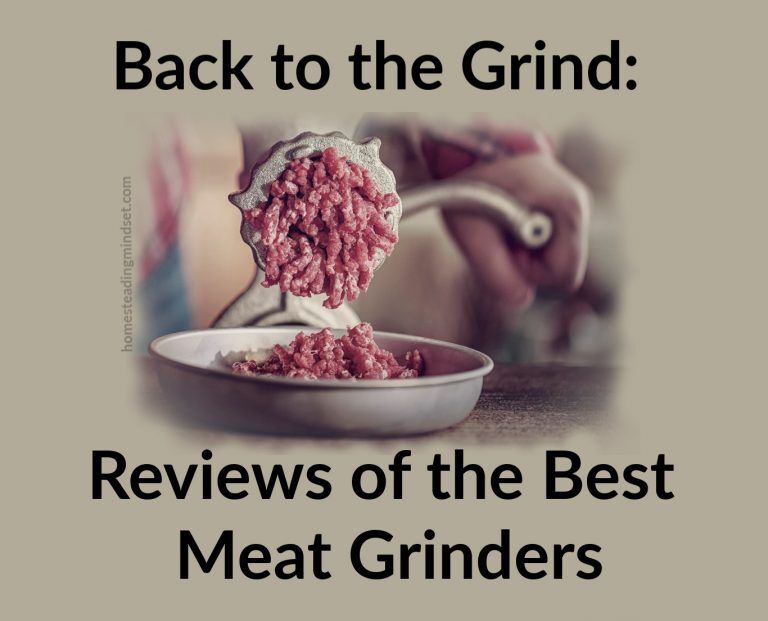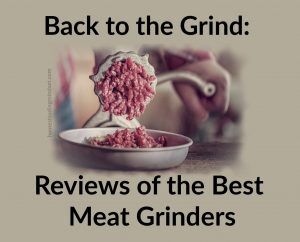 Meat grinders are useful tools that help us in our quest to nurture our inner homesteader and our "wherever you are, you can do this!" attitude. Choosing the best meat grinder for your needs and budget can be a daunting task, but I can help!
Homesteaders of all skill levels and in all stages of the process can take control of their food. I think most, if not all, homesteaders and homestead-minded people join the ranks of doing what they can, where they can by starting with their food sources. Whether having a windowsill garden, or raising livestock, and everything in between, we can all do something to improve the quality of our food.
Some of you may be hunters. Some of you may be livestock farmers. Some of you may like gourmet foods and want to experiment with your own recipes. Wherever you are in the spectrum, a good meat grinder will be a fun and worthy addition to your kitchen.
I'll give you some reasons to grind your own meat if you aren't already, some things to consider when shopping for your new grinder, and reviews of the very best meat grinders, both electric and manual, on the market today.
Why would you want to grind your own meat?
The first reason, and probably most obvious, is that if you grind your own meat, you'll always know what cut went into the final product. When you buy ground meat at the grocery store, unless the package specifies that it's a certain cut, it will contain all the leftover bits and pieces from the day's processing. It might contain some bits of really nice cuts, like steak, but more often… It's not so nice. It might contain gristle, connective tissue, or even bone chips.
You can control the fat content of the ground meat. Do you want a moist 80/20 mixture or would you prefer a lean 90/10? Or perhaps somewhere in-between? It's entirely up to you.
You never know what goes on behind the closed doors of the supermarket meat department. Did the workers wash their hands before handling the food? Was the meat kept at the proper temperature? Was all the equipment clean? You won't have to wonder if you grind your own, because you'll be in control of those things in your own kitchen.
Making your own cased sausage is extremely satisfying. You'll be able to make your own sausages just the way you like them, and with whatever custom blend of meats and spices your heart desires. Do you like those fancy sausages from the deli to put on your grill on the weekend? How much more delicious, cost-effective and rewarding to make your own!
If you raise your own meat, or if you are a hunter, you'll pay good money to the butcher to have it ground for you. Have the butcher package the meat as roasts, then make your own custom flavors exactly the way you like them.
What should you look for in a meat grinder?
The first thing to do is to ask yourself how often you'll use the grinder, how much you want to invest in one, and what jobs you want it to do. Once you've figured that out, it's time to start shopping – but there is a dizzying array of grinders on the market.
When you're shopping, be sure to look for grinders with powerful motors, stainless-steel blades and plates. Some cast aluminum parts can warp over time, so be sure to read customer reviews to see how they've held up if you're considering a model that comes with them.
It's nice to have a variety of grinding plates. The plate hole size determines what it's best for, so give some thought to what kinds of meals you'd like to prepare most often. Various sizes of grinding plates produce various sizes of meat products – from the finest plate for hamburger and jerky to the largest size for chili meat and stew chunks.
Does the grinder have a reverse switch? It's a handy thing to have if the auger gets clogged and you don't want to stop long enough to take it apart and clean it.
Safety features such as recessed on/off buttons and circuit breakers will help keep your fingers safe. If you've opted for a manual (non-electric) grinder, be sure your choice attaches firmly to the counter and won't come loose while you're working.

Look for a manual grinder if you are only using the grinder occasionally, and/or only grinding enough meat at a time for the current meal. You certainly can process all your burger from an entire animal with a crank model, but it's a lot of work, and if you're going to do that, you might as well invest in an electric one. If you're off-grid, and need a manual grinder, buy a good one that you can pass down to your kids some day.

In my experience, plastic grinders, or ones made with plastic augers, do not last long. Avoid those! And I personally avoid any appliance that needs to suction onto a countertop. They might work well the first few times, but those rubber suction pads don't last forever, and the surface needs to be very smooth in order for them to suck onto your table or counter. Occasionally the suction breaks while you're working, and you don't want to risk cut fingers or knocking your meat to the floor when that happens.
Why should you let me help you choose a new grinder?
Why should you trust me to help you pick out a meat grinder? I don't have room to grow out my own pigs and cattle, so my husband and I buy a pig and at least half a cow every year. Every other year at the very least. Our household may be small, but we enjoy making our own gourmet sausages and use our meat grinder for that, as well as for those times when we're able to get a moose. I not only use a meat grinder, but I have spent hours researching which one I'll buy when the time comes to upgrade, and have personally experienced which ones to avoid. Now, without further ado, let's get right to my reviews of the very best meat grinders on the market today.
Best Electric Meat Grinder For Frequent Use
Behold the LEM Big Bite #12. This one is right up at the top of my wish list. With a 3/4 horsepower motor and "Big Bite" technology, this grinder is raring to go. Made to take "big bites" of meat (see what they did there?), larger chunks of meat can be fed through the auger to grind approximately 11 pounds of meat per minute. No wasting your time with this baby. The LEM #12 includes two grinding plates plus a stuffing plate, three sizes of sausage stuffers and features a built-in circuit breaker. The five year warranty and lifetime customer support mean that even if you do have an issue, or just want help, there will be someone there to help you out. The permanently-lubricated motor uses a grease formulated to reduce the motor noise. Be aware that this grinder is a hefty fella weighing in at 38 pounds, which means that it won't scoot around on the counter while in use but you won't want to carry it around much. Lots of optional add-on purchases include a foot switch to free up your hands to work on that meat. If you are an avid hunter or butcher your own stock, I heartily recommend this grinder.
Cons? Yes, a couple. There is no reverse switch. This isn't a deal-breaker for me but it's worth a quick mention. And while the on/off switch is not recessed, it's located in a lower corner, not near the hopper where it might be accidentally bumped.
(Don't need to use your grinder frequently? Check out the slightly smaller LEM Dual Grind #8 with Big Bite auger. This grinder uses two grinder plates to eliminate the need to send the meat through the auger twice. Cuts down on work time! Processes approximately 7 pounds of meat per minute.)
Best Budget Electric Meat Grinder
On a budget? Check out the Altra Meat Grinder. It may not be fast, but it will get the job done, and maybe some jobs you didn't know you wanted to do yet. The unit comes with two blades and three grinder plates that can handle not only meat, but ginger, garlic and other veggies. Kibbe attachments and a sausage tube are included. This machine is a little slower than some others, and needs to be allowed to cool down every 10-15 minutes, but will handle up to two pounds of meat per minute. The reverse button is a nice addition in case you happen to put too much meat in at once. On-board accessories storage is a nice plus for keeping the parts handy and secure.
Cons? This little go-getter can be a bit loud. Most users consider the compact size and stylish appearance to more than make up for it. Hand wash the various parts; do not put any of them in the dishwasher. Set a timer for 10 minutes, process your meat until the timer goes off, and allow the grinder motor to cool for a couple of minutes before resuming work. It's not as inconvenient as it sounds, especially if you're not grinding a lot of meat in one sitting.
If you've got less than $100 to spend, this is a good one. Check out the current price here.
Best Grinder Attachment for Mixers
If you have a Kitchenaid stand mixer, you know you can add attachments to the power hub on the front of the machine. Many of Kitchenaid's attachments are amazing, and some are… less. One really good one is the all-metal meat grinder attachment. This handy accessory is intended for light-duty use, so don't expect it to handle your entire deer, but if you're making gourmet burgers for dinner, this will suit you. Yes, you can buy an entire grinder for less than the price of this attachment, but if you already own the mixer and don't grind a lot of meat, it's nice to have a small item to store rather than a completely separate appliance. Three grinding plates and two sizes of sausage stuffers are included.
Cons? It's a splurge for sure, and you have to already have a mixer that it will fit, although the odds are very good that it will (check to see if you do by entering your model number). It is not dishwasher safe and must be hand washed.
And while we're talking Kitchenaid attachments, you might be wondering why I would even tell you which attachment to buy for a Kitchenaid… Well, there are lots of knock-off attachments available, and not all of them are good ones. Cheaper, yes, but good, no. Let me just say that the one grinder I will never, ever recommend is Kitchenaid's plastic grinder. I broke mine the second time I used it. Don't buy the plastic one.
Best High-End Hand-Crank Manual Meat Grinder
Okay, it's a little (perhaps a lot) of a splurge, but the Italian-made Tre Spade TRE10800 grinder is worth it. The problem I have with so many manual grinders is that they either have a suction base (the rubber bottoms don't last forever, I know that for a fact, and they need smooth surfaces to attach to – my countertops are textured so they won't work) or the clamp base won't open wide enough for me to clamp to my countertops. The Tre Spade grinder clamps onto surfaces up to 1 1/2″ thick. The stainless-steel parts are easy to clean. Sure, you can find a cheaper manual grinder anywhere, but they will likely be aluminum, with a smaller clamp throat.
Cons? The price is more than some people will want to pay for a manual grinder.
Best Budget Manual Meat Grinder
This one was a trick; sorry. I just can't recommend a modern cheapie manual meat grinder. Sure, there are some out there in the $20 range, but they rust, break, have flaking tinning, dull blades and narrow clamp openings. Or they're plastic or have flimsy suction cup bases. They may look like the grinders our grandparents used, but they're nowhere near the quality. Please skip over these cheapie grinders that will only waste your money and frustrate you. Trust me, you'll be glad you did.


As an Amazon affiliate, I earn from qualifying purchases. I may (or may not) receive a small commission on each purchase, but it does not affect the price you pay in any way.