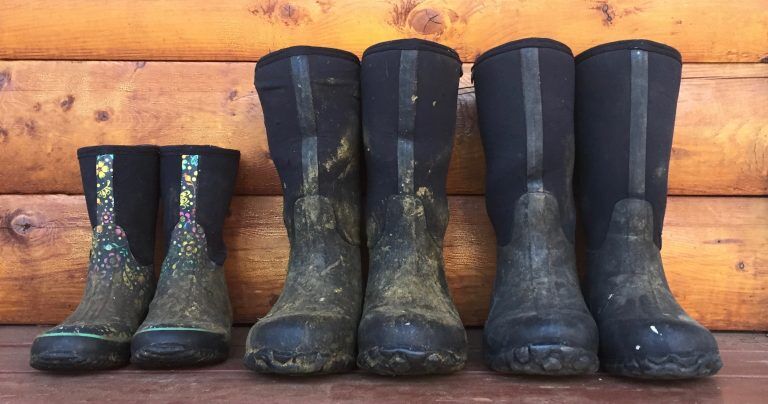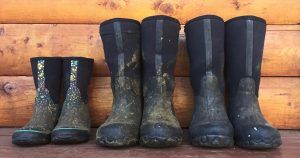 Alaskans know boots. Waterproof boots. Insulated boots. Chore boots. Boots are a way of life and a symbol of our go-anywhere, do-anything attitude, that take us from the barn to the boat to the town. But.. which waterproof boot is the best?
Recently the topic of favorite boot brands came up in an Alaskan farming group, and 110 Alaskan outdoor professionals revealed their favorite waterproof boots, and why they liked them. Farmers and fishermen alike weighed in, and here are the top five waterproof boot brands picked by people who know them best:
#1 – Mucks
Voted the best by 31% of poll participants, Muck boots are the winner. Available in several different styles, soles, and shaft heights, there's a Muck for everyone. Men's versions typically come in black or brown, while women can enjoy a variety of colors and patterns. I really like the fact that Mucks have specialized soles for whatever job and terrain you might be walking on – from mud to snow to ice, Mucks have you covered.
Muck's neoprene shafts are waterproof and comfortably flexible, with EVA midsoles and high-grade rubber exteriors that provide comfort and durability for the long haul. The one caveat that Muck users have is that certain sole types are better than others for icy conditions, so be sure to choose a sole pattern suitable for the environment you're working in. If you are working in an area that doesn't get a lot of ice but does get sloppy, you might choose the Muck Hoser (which my husband wore for years and really liked). If you are frequently walking on ice, try the Muck Boots Arctic Ice Extreme Conditions model for men or women. For general use, I recommend these boot styles: the Muck Chore Classic for men and Muck Arctic Weekend in a wide variety of colors for women.
Update: Since I originally wrote this article, my husband has bought two more pairs of Muck boots – the Muck Chore Tall and the Muckmaster Tall. He really likes the higher rubber section on the shafts of the boots.
#2 – Xtratuf
Xtratufs are considered the unofficial footwear of Alaska. The classic copper-and-tan styling of Xtratuf boots is easily recognized no matter where you are. 24% of poll participants wouldn't wear anything other than their 'Tufs. Pollsters suggest looking for USA-made Xtratufs for the highest quality and durability.
The Salmon Sisters variation is currently very popular with Alaskan ladies, worn with the shaft folded down to show the sea life print on the lining.
Look for Xtratufs in steel toe, or insulated, or ankle boot styles, all with slip-resistant soles and triple-dipped outer shells to make them extra waterproof, and…. Xtra Tuf!
#3 – Bogs
19% of poll participants pick Boggs boots as the best. My husband currently wears the Bogs Workman style. The seamless shell construction eliminates leaks and prevents cracking, while keeping the boot lightweight. The odor-control, rebound cushioning insoles keep your feet comfy and less stinky while helping prevent foot fatigue. These are good boots for wide feet.
Women love the attractive colors and styles that Bogs has available, from slip-on booties to mid-high (which I particularly like, since I have wide calves) to tall shafts. Bogs has a boot for any occasion you might need a solid boot for – rain, barn, snow, and even specialty styles for kitchen workers. Many styles for both men and women have convenient pull-on handles built into the sides of the shaft.
#4 – LaCrosse
Lacrosse boots brought in 10% of the votes. LaCrosse offers several styles of boots, but their best-seller on Amazon is the Grange. The chevron-cleated outsole is vulcanized to the boot, so that it will not separate. Ankle Fit design keeps your heel from slipping up and down in the boot as you wear it, and grips your foot snugly enough that the boot isn't going to come off when it gets stuck in deep mud. Be aware that the same Ankle Fit design that prevents you from losing your boot in deep mud or sand can also make it a little harder to take off at the end of the day. The Grange is a basic waterproof rubber boot in that it does not have any insulation in it, but it is rubber all the way to the top of the shaft. If you have a wet, muddy area to be in but are not in cold temperatures, consider this one.
#5 – Grunden Deck Boss
The Grunden Deck Boss is #5 on the list, with 5% of the vote. That might not seem like much, but consider that this is a boot made for fishermen, and the majority of the pollsters were farmers. Alaskan fishermen know a good deck boot when they wear one, so this boot definitely deserves a look. The Deck Boss has SRC Certification for slip resistance (this is the highest level of slip resistance rating), providing the best-in-class traction on wet surfaces like boat decks. The flexible upper folds down when the full height isn't needed, and includes a built-in groove with silicone band that holds pant legs high and dry.
(Are you wondering what brand of boots I wear myself? My feet are so small I can wear children's boots, and I like Kamik.)
You can't go wrong with these incredible boots
If you are looking for long-lasting boots that will keep your feet happy, these Alaskan-endorsed brands are what you're looking for. No matter which of these boot brands you choose, your feet will stay dry and comfortable, season after season.


This post contains affiliate links which may, or may not, result in a small commission for me. This does not affect your purchase price in any way.
The remaining 11% of votes were for brands that received only one or two votes and were not included in this article.