Is there an easy way to make lots of ice cream?
My husband and I own dairy goats as the main part of our hobby farm. At first, we drank the milk and made basic cheeses, but didn't make ice cream often. We had a manual ice cream maker with a cylinder you put in the freezer to chill before adding the ice cream mixture for churning. Even though it wasn't difficult to use, as the ice cream got firmer, it did become harder to turn the paddle after a while, and that can be tiring. It would only handle one quart of ice cream before it needed to spend another several hours in the freezer, which made it impossible to do multiple flavors on the same day. Before we moved to Alaska, I worked in a big ice cream store chain (which I won't mention but you'd know it if I did), and I was familiar with their enormous compressor-driven ice cream machines. Is there a compressor-driven machine made for home use that will stand the test of time and not give me arms like Popeye?
In the summer of 2013, I bought my husband the Cuisinart ICE-100 ice cream and gelato maker for an anniversary present. I can honestly say it's become the most-used kitchen appliance we own (with the one exception of his coffee maker). Several times a year, I make a huge batch of ice cream custard – sometimes as much as three gallons! – and spend the day making a variety of ice cream flavors. We package the ice cream into quarts, pints and half pints, and enjoy sharing it with friends. We know exactly what ingredients are in our treat, and are happy to be able to share it with friends and family who are also careful about what goes into their food.
Let me introduce you
This is my ICE-100. As I said earlier, it's over five years old and has been in regular use since unpacking it from it's box. These are actual, unretouched photos of my machine. It looks pretty new, doesn't it?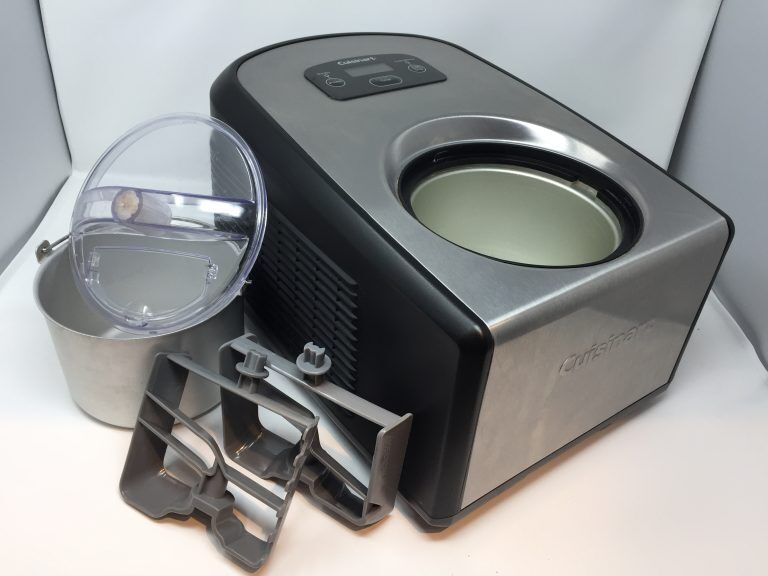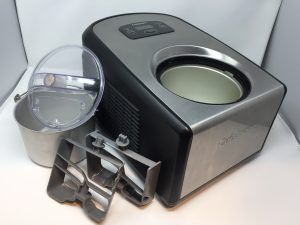 The base contains a compressor, much like you'd find in a commercial ice cream parlor, except smaller. On the top are the power button, start/stop button, and adjustable timer. The machine comes with a 1.5-quart bucket, an ice cream paddle, a gelato paddle, and a locking see-through lid with a covered slot for adding mix-ins. The lid and paddles are top rack dishwasher safe, and the bucket is easy to wash by hand with a little soapy water. The base can be wiped down with a damp cloth. A user's manual with a few recipes to get you started is also included in the box.
How to use the ICE-100
Place the bucket in the base and one of the paddles (either the gelato paddle or the ice cream paddle) into the bucket. Fill the bucket with a quart of ice cream custard, or ice cream mix, to the point on the paddle that I recommend below. Use your favorite recipe. Put the locking lid on top of the bucket and turn the lid counter-clockwise to lock it into place. Press the Power button, and select the amount of time needed on the timer. The default time is 60 minutes. If you are making multiple batches, use the default time setting. Later batches won't need quite as long – sometimes as little as 45 minutes – because the machine will stay cool between batches. Press the Start/Stop button and let the machine work it's magic.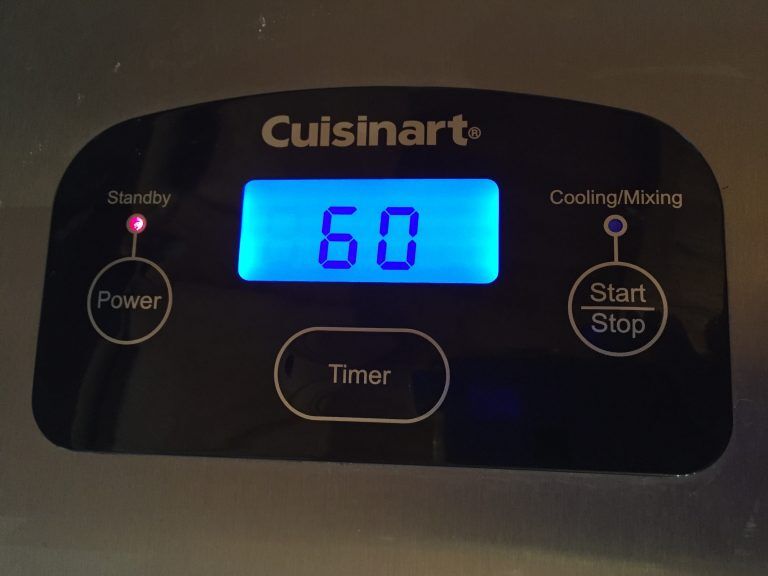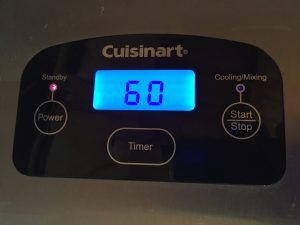 If you would like to add mix-ins, add them when there are 10 minutes left on the timer. There's no need to stop the machine; simply open the little door on the clear lid and gradually pour the mix-ins through it.
When the machine is finished churning your treat, it will beep to alert you, and go into "keep cool mode" for 10 minutes, unless you turn the machine off.
You might have noticed that I said to add about a quart of ice cream mix to the bucket, but that the bucket has a 1.5 quart capacity. That's because the frozen ice cream takes up more room than the liquid mix does. Ice cream gets bigger as it churns and air is incorporated into the freezing custard. This is called "overrun". Don't fill it past this point on the paddle and you'll generally be safe from overrun messes.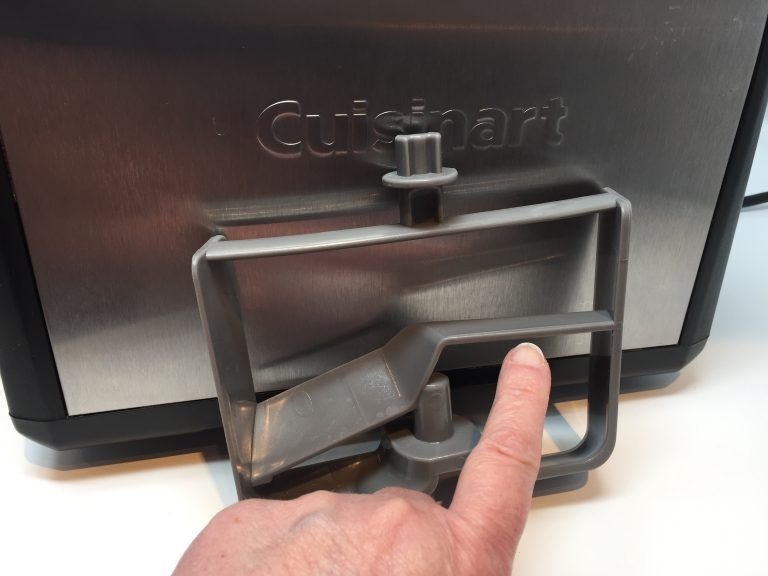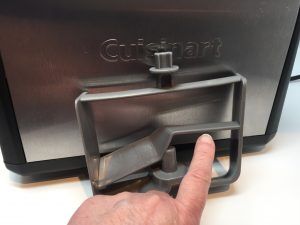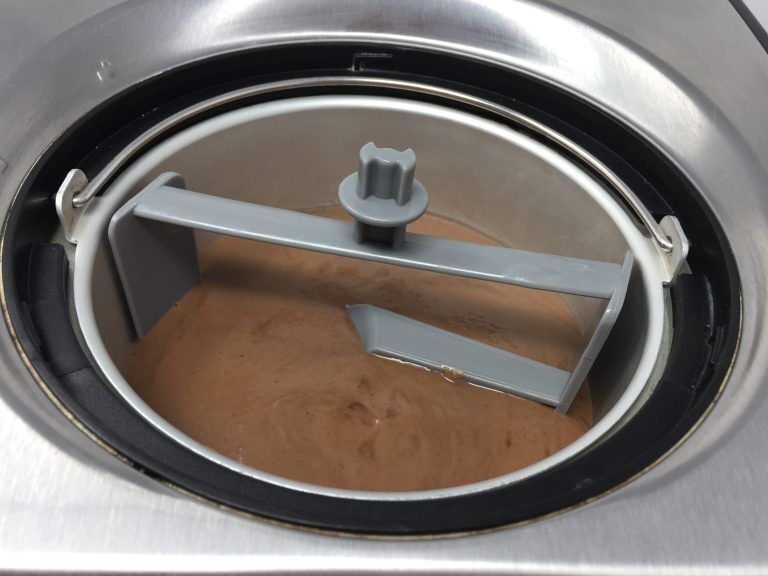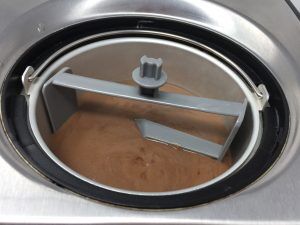 Remove the bucket and use a rubber spatula to scoop the ice cream out. If you use a metal utensil to scoop out the ice cream, take care not to scratch the aluminum bucket. See my nice delicious soft-serve ice cream? I'll have a bowl now, and freeze the rest for scoops later.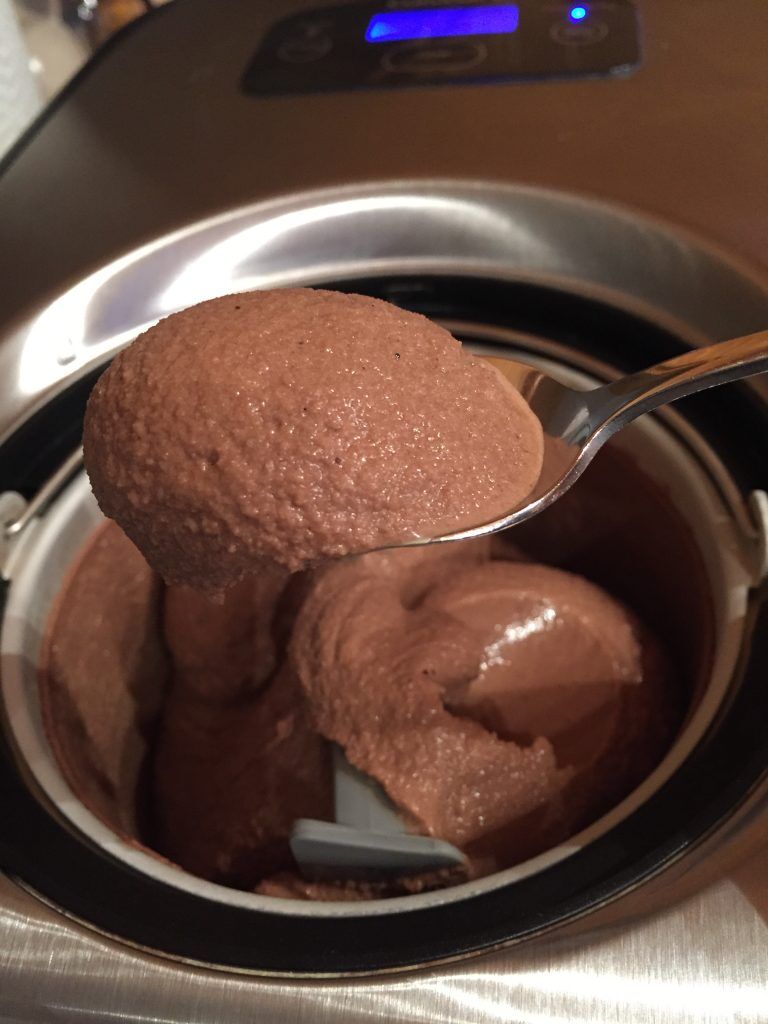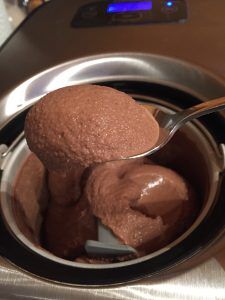 When you're done, put the lid and paddle in the dishwasher, swish out the bucket with soapy water and a sponge, and wipe down the base with a damp cloth.
What I love about this ice cream maker
I love that the compressor in the base keeps the bucket cold, batch after batch. Ice cream makers that rely on a manually-chilled cylinder to freeze your custard will naturally lose chill quickly. That's not the case with this machine, which is kept cold in exactly the same way a big commercial machine is.
Not only do you get an ice cream paddle, you get a gelato paddle, which helps produce the smoother, silkier texture characteristic of gelato. Oooh, so fancy!
Cuisinart recommends that you unplug the machine and allow the compressor to cool for 10 minutes between batches. I do this while I remove the bucket, package the ice cream into containers, and wipe out the bucket and any custard that might have gotten between it and the base.
When the batch is finished, the ICE-100 goes into a ten-minute "keep cold mode". If I'm not paying attention, or busy doing something else when the batch is done, I don't have to worry about my ice cream melting before I get to it. The ice cream will be a soft-serve consistency that you can eat immediately – we always eat a little as soon as it's done – or place in a container in the freezer for a firmer, scoopable consistency.
I can make as much ice cream in a day as I care to, and I often have marathon days that stock my freezer and my friends' freezers with treats to last all summer. I make a big batch of vanilla custard on one day, and a big batch of chocolate custard another day. Each quart of ice cream gets different mix-ins. Plain vanilla followed by buttered pecan, followed by chocolate chip, followed by cookies-and-cream. Plain chocolate followed by chocolate banana, chocolate caramel, and rocky road.
The few things I'd change
I pretty much love everything about this machine, but if I had to find something to nit-pick, it would be that overfilling the machine makes a mess, although seriously, that's more of a user error than a flaw. These little messes can be hard to clean from the little groove around the top rim of the base, and can run down between the base and the bucket. You'll need to wipe that out with a dry paper towel between batches. If you forget and use a damp paper towel, it will freeze to the base, so be sure it's just a plain dry one.
The only other thing I'd "complain" about is that after more than five years of use, I get occasional leakage around the plastic part in the bucket that rotates the paddle. It's not much; a few drips.. just a little bit more to wipe out of the bottom of the machine at the end of the day. I plan to order a replacement bucket from Cuisinart, as the 3-year warranty has long since expired.
You might guess that a machine with a compressor and a motor to turn the paddle would make a ton of noise, and yes, it is a little bit loud. It's about the same amount of noise as running a mixer. Run the machine in the kitchen while you watch tv in the living room and it likely won't bother you at all. It's not so loud that you can't have a conversation sitting next to it, but I thought I'd mention it in the spirit of full disclosure.
Why you want one, too
If you love ice cream, I highly recommend the Cuisinart ICE-100. It's easy to use, easy to clean, fun, and can make many back-to-back batches. If you're lucky enough to have a plentiful source of milk like I do, this machine is a no-brainer.
The fully-automatic operation means you can start your batch of ice cream and go do something else while the machine does all the work.
For those who have dietary issues such as lactose sensitivities, additive or dye sensitivities, or perhaps an allergy to a particular mix-in, you don't have to worry that those bothersome things are in your ice cream when you make it at home. You'll be able to have ice cream, ice milk, frozen yogurt and gelato, all tailored to your needs and desires, without breaking a sweat or straining your arm cranking an old-fashioned machine.
You won't have to go to the ice cream parlor and pay outlandish prices for fancy flavors ever again. You'll be able to make any flavor or variety you want, in the comfort of your own kitchen. Save the time, effort, and expense of going to town for ice cream.
The main thing to love about the ICE-100, though, is that it's so convenient. There's no cylinder to chill ahead of time, taking up valuable space in your freezer. There's no salt and ice to buy, no cranking, no mess… just the sweet, sweet delight of homemade ice cream.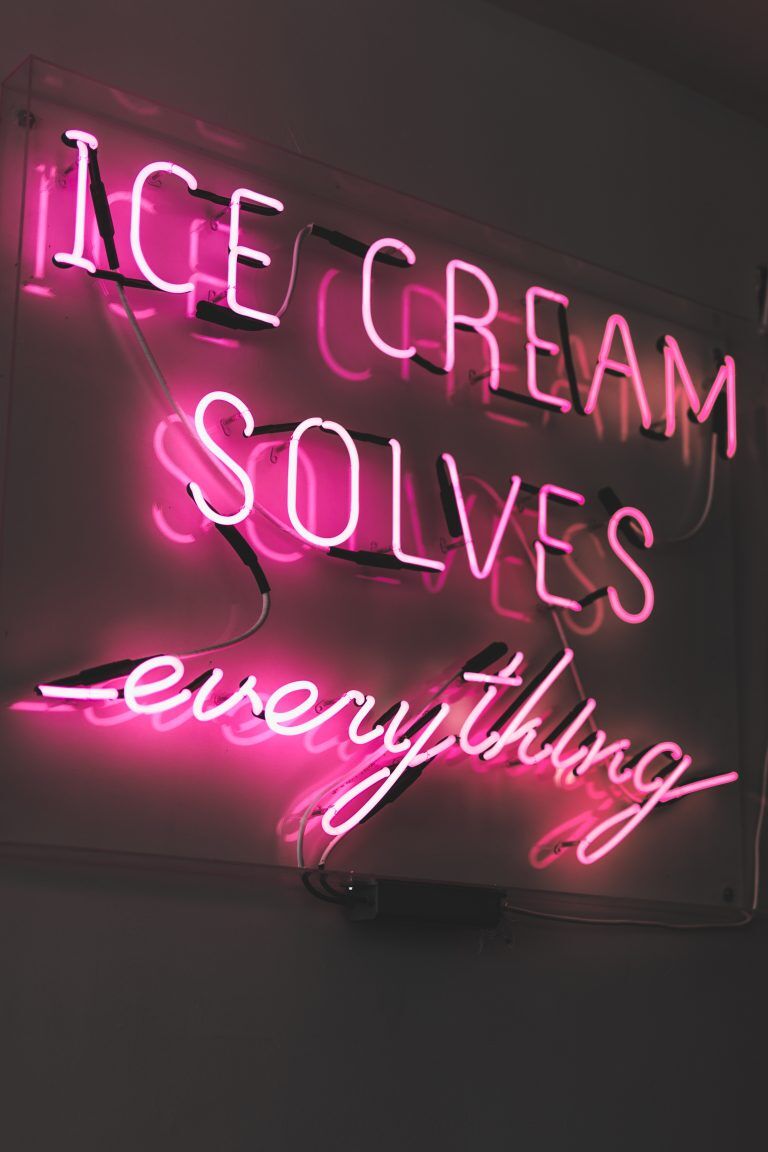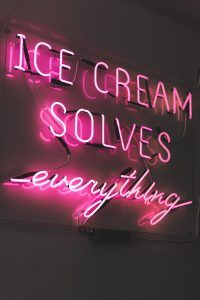 This article contains affiliate links, which may (or may not) earn me a small commission. It does not affect your purchase price in any way.
Featured image and neon sign image courtesy of unsplash.com
SaveSave
SaveSave
SaveSave
SaveSave
SaveSave
SaveSave