Kershaw knives are my favorites. I just love them. Epic EDC knives made in America, with blades crafted from amazing steel, comfortable to hold and easy to use – what's not to like? But what if you're trying to decide between the Kershaw Blur and the Kershaw Leek? Here's what you'll need to know to pick your new favorite.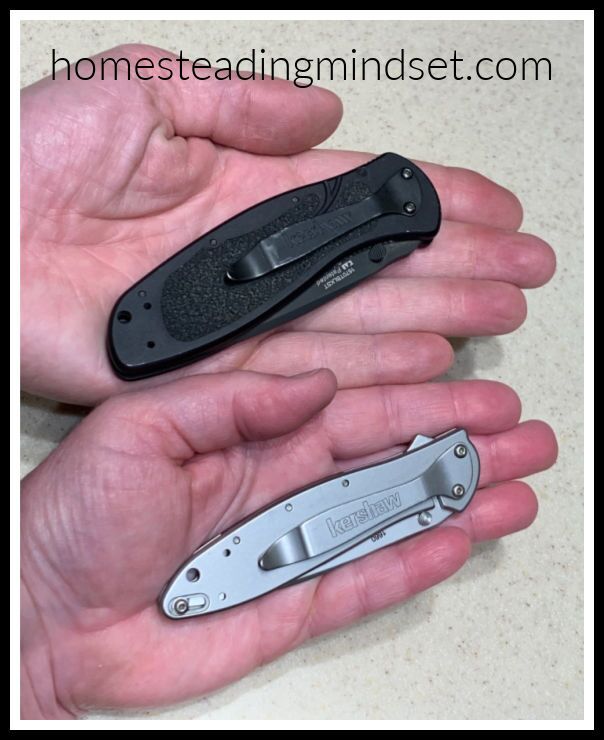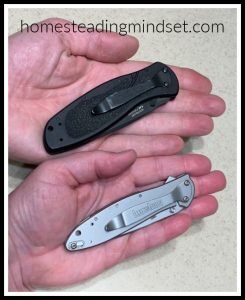 Let's look at what they both have in common:
Both are made in the USA
Kershaw's factory is located in Tualatin, Oregon. While some of Kershaw's knives are manufactured in Japan or China, both the Leek and the Blur are manufactured in their facility in Oregon.
Speedsafe Assisted Opening
Knives with Kershaw's patented Speedsafe Assisted Opening have a small torsion bar in the handle. When the knife is closed, the torsion bar "creates a bias towards the closed position" as Kershaw's website describes it. When you open the knife, that same torsion bar adds to the pressure from your finger, and pushes the blade open.
Designed by Ken Onion
Ken Onion is the youngest inductee to the Cutlery Hall of Fame. He holds over 30 patents for innovations in designs, locks, and mechanisms, including the Speedsafe Assisted Opening mechanism. The popularity of Ken Onion's designs prompted Kershaw to shift their manufacturing focus away from fixed-blade hunting knives to folding pocket knives.
Wide variety of handle and blade styles and finishes
Both the Blur and the Leek series of knives are available in an assortment of blade styles from tanto to partially serrated to smooth. Handles are available in colors and finishes to add fashion flair to your hardware.
Blades are made from high-quality steel
Sandvik created a special steel at Kershaw's request – Sandvik 14C28N. This special steel was developed for a balance of corrosion resistance, edge retention, and hardness while also being easy to sharpen by yourself. While other blade steels cater to specific uses, Sandvik 14C28N is an outstanding general-purpose steel that can please just about anyone. Hardness Rockwell C rating (HRC) is 58-60, toughness is 6/10, edge retention is 4/10, corrosion resistance is 6/10, and sharpening ease is 6/10.
Versatile Repositionable Pocket Clip
The pocket clip on the Blur and the Leek is repositionable to suit your own preference. Do you like to carry with the tip up? Rather carry with the tip down? No problem. Simply unscrew the clip, reposition it and screw it back down.
Limited Lifetime Warranty
Kershaw knives come with a limited lifetime warranty against manufacturing defects in material and construction. Even if you break your blade and the fault is all yours, Kershaw will still replace the blade for you for a $25 fee – which is a whole lot less expensive than replacing the entire knife. See the details of Kershaw's warranty on this page.


Now let's look at some of the differences:
Leek 1660 Series
The Leek 1660 series comes standard with a drop-point blade made of Sandvik 14C28N steel, Speedsafe Assisted Opening, thumb flipper for left- or right-handed opening, Kershaw Tip Lock Slider system, and a pocket clip that can be positioned for tip-up or tip-down carry. The Leek is sleek, too – easy to carry in smaller pockets and dressier pants.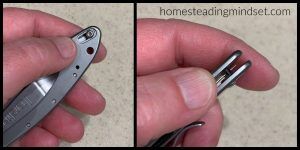 The Tip Lock Slider system is a safety feature that ensures the knife won't accidentally open in a purse or some other place where it gets jostled around. A small sliding screw tab holds the tip of the blade in place so that it can't come open until the tab is moved out of the way.
Options include a partially-serrated blade; composite blade; reverse tanto blade; and various colors and styles of handle finishes.
Blade length is 3″
Closed length is 4″
Overall open length is 7″
Weight is 3 ounces
Blur 1670 Series
The Kershaw Blur 1670 Series was previously covered in my article Reviewing the Kershaw Blur Series Knives. If you haven't read that one yet, you might want to check it out after you're done here, as I go into a little more detail on that page.
The Blur comes standard with a nearly 3 1/2″ long drop-point recurve blade made of Sandvik 14C28N steel. The thicker blade on the Blur is a real workhorse that will cut and carve with minimal effort. The blade opens with a thumb stud and Speedsafe Assisted Opening. The locking mechanism is an inset liner lock, which helps shave a little bit of weight off the knife as opposed to a full-liner lock. The pocket clip is reversible for tip-up or tip-down carry. Trac-Tek inserts on both sides of the handle provide extra gripping power.
Options include partially-serrated blades; tanto blades; and a glassbreaker tip. First responders and law enforcement persons who are likely to be first at the scene of an accident could use the glassbreaker tip to help free a trapped victim.
Blade length is 3.4″
Closed length is 4.5″
Overall open length is 7.9″
Weight is 3.9 ounces
Which one to choose?
Think about what you need an EDC pocket knife to do. What jobs will you use that knife for, and under what circumstances? Will you be working in wet conditions, like farm work on rainy days? Will you mostly need a heavy-duty box cutter or twine cutter for use in a warehouse? Do you need to carry the knife in a small pocket where size matters, or do you have plenty of room to carry it?
My husband owns a tanto blade Blur, and I own a Leek. You can see the photos of our actual knives in this post (except for the images that are Amazon links), so you know we're actual owners and users. The thing I like best about the Blur is the width of the handle, because I like the way it fits in my hand. I also like the Trac-Tek inserts on the handle that make the grip feel so secure. The thing I like best about the Leek is the Tip Lock. My husband was properly impressed with the Tip Lock too.
If you are going to be working in wet conditions or outdoors, I would suggest the Blur for you. The handle feels secure and the extra-textured inserts take that up a notch.
If you need a smaller knife and are taking it in and out of your pocket frequently, the Tip Lock on the Leek will ensure the blade won't deploy accidentally, while still being easy to unlock with your thumb. The slim handle won't make a big bulge in your pocket, either.
If you are a dedicated knife carrier and can afford both, my strong suggestion is to buy one of each. Carry the Leek to work or for light-duty jobs. On the weekends when your projects or recreational activities are more involved, the Blur will be a welcome addition. You can't go wrong with either of these excellent knives, and the only thing left to decide is which color to buy. Get one, or both, and get stuff done!