Making cheese at home doesn't have to be scary or difficult
Cheesemaking is a hobby of mine. I make lots of cheese, and I make it often. Having plenty of fresh milk is a perk to owning dairy goats, but you don't have to have goats in the back yard or even have access to raw milk in order to make your own cheese. You can use ingredients from the grocery store and tools you probably already have in your kitchen.
Gather up your supplies
Ricotta is a simple cheese that is usually made from the whey left over from making other types of cheese (the word "ricotta" means "twice cooked"), but it can also be made in a whole-milk form. Here's what you'll need:
A gallon of whole-fat milk. Store brand is fine if you're on a budget, as long as it's not nut milk or ultra-high temperature (UHT) pasteurized milk
1/4 cup of vinegar. I like apple cider vinegar but white vinegar is fine
3 tablespoons of melted butter and 1/2 teaspoon baking soda OR you can use 1 teaspoon salt
A pot large enough to hold the gallon of milk, a large colander, a bowl big enough for the colander to sit in, a new clean white handkerchief or several layers of cheesecloth, a large spoon, and a food thermometer.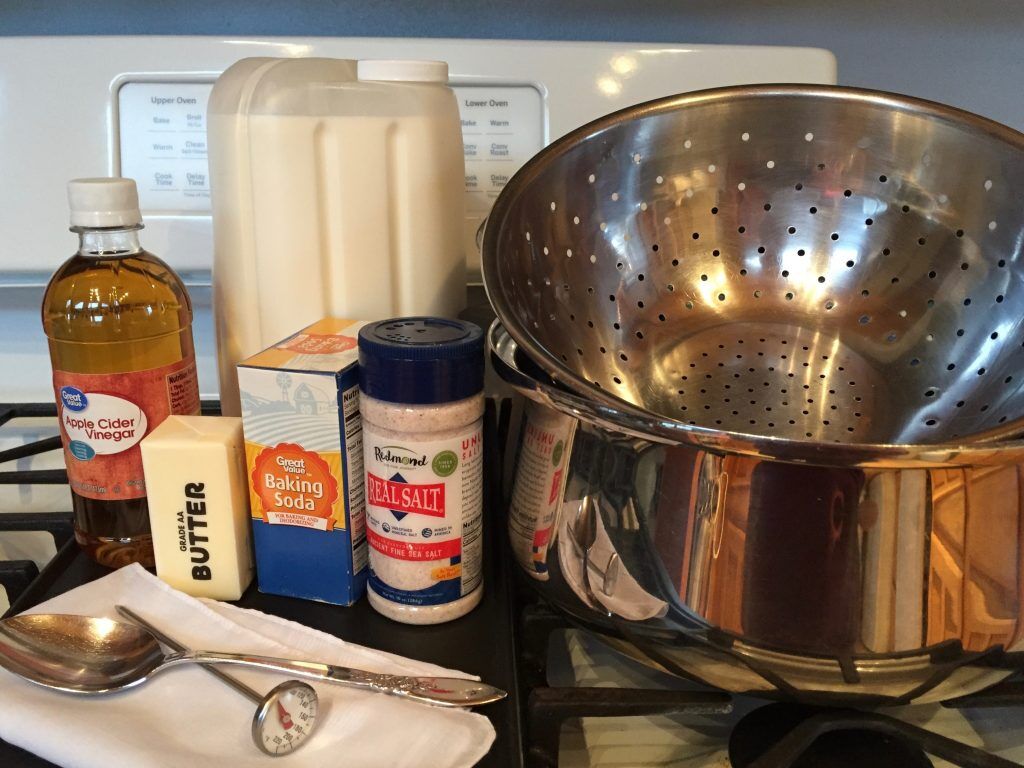 Let's get started
Pour your gallon of milk into your large pot and carefully heat the milk to 195°F. You want the milk to be just below the simmering point. If your milk boils, the ricotta can taste overdone and even have a burnt flavor, so keep it below the boiling point.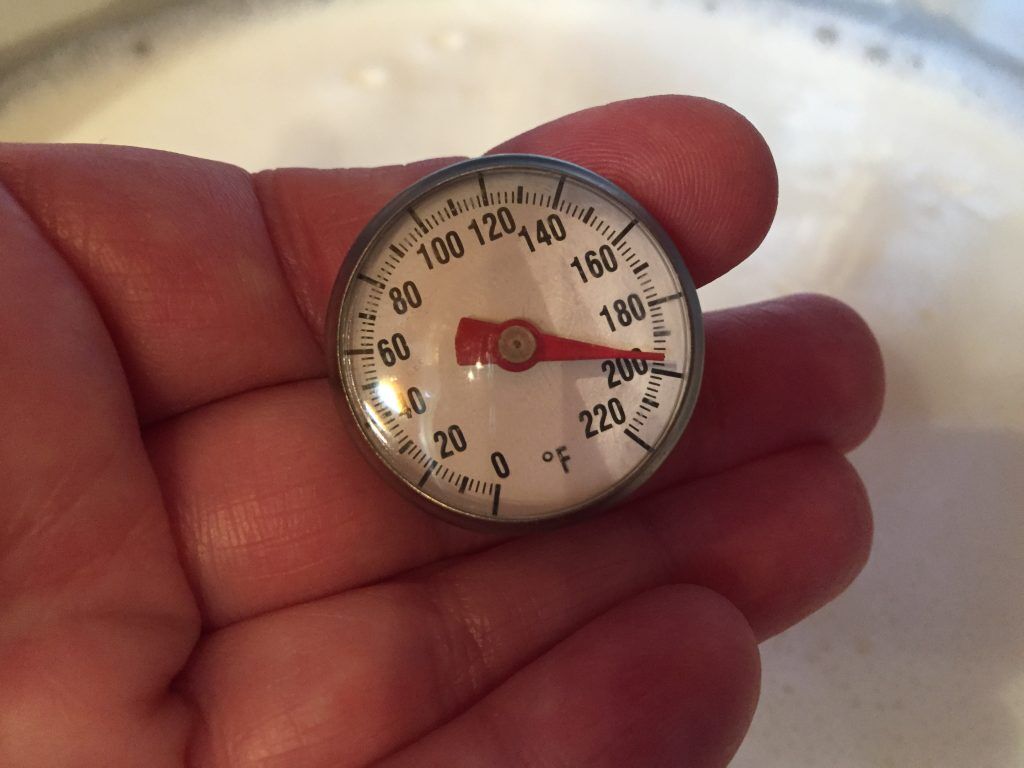 When your milk is up to temperature, turn off the heat, and drizzle the 1/4 cup of vinegar slowly into the milk, stirring constantly. You'll see the milk separate into little clumps of curd and fairly clear, slightly greenish whey. The bits of curd can be very small at first, so keep stirring gently for a couple of minutes to allow the tiny curds to clump together into bigger pieces. If your whey is still white and milky, like the photo on the left, you can heat the milk a little bit more up to 205ºF, but do not add more vinegar, or the ricotta will taste sourish. When your whey is mostly clear, like the photo on the right, ladle the curds into the cheesecloth-lined (or handkerchief-lined) colander and let it drain for a minute or two. You actually want some whey to remain in ricotta so that it stays light and moist, so don't drain it for long.
Note: be sure to have a bowl under your colander to catch the whey! If you have chickens, they will happily drink any whey you give them. You can make a delicious whey-monade drink by using whey in place of water in your favorite lemonade recipe, or add the whey to your compost pile.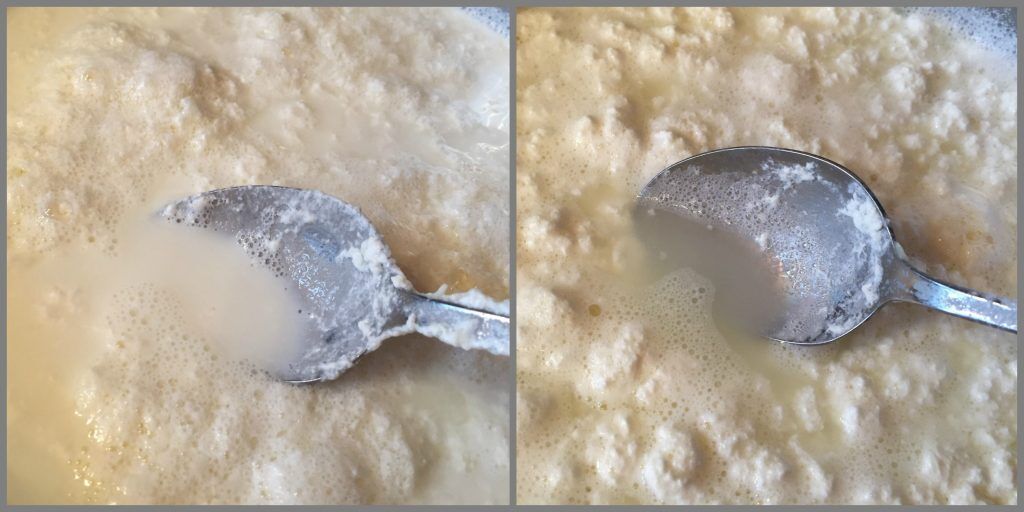 Put your moist curds into a bowl and add EITHER up to one teaspoon of salt to taste OR 3 tablespoons of melted butter and 1/2 teaspoon of baking soda. I prefer the latter. I like the extra richness of the butter and the salty fluffiness from the baking soda. This is also a good time for you to divide your batch of fresh ricotta into recipe-sized portions and add seasonings or herbs to your liking. Your ricotta will keep for 5 – 7 days in a tightly-lidded container in your refrigerator.
You did it!
Fresh ricotta! Handmade by you! Next time the urge for a nice stuffed pasta or lasagna strikes you, you can make the ricotta yourself. Any time I have an abundance of tomatoes (thank you, friends who garden!) I like to make spaghetti sauce, add some of my freshly-made ricotta, and serve up a lovely pasta dish to my family.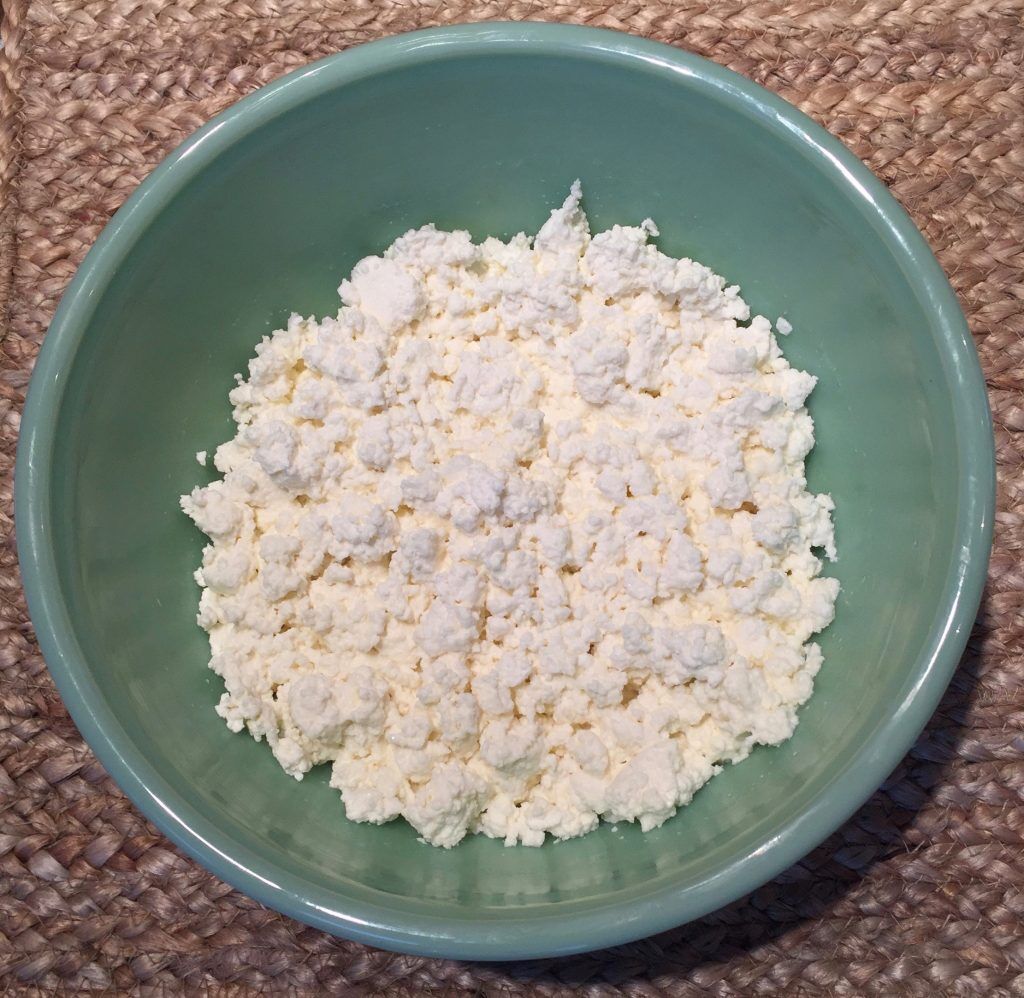 Ricotta for dessert?
Did you know ricotta makes a rich dessert in only a few minutes and a few ingredients? Simply mix a cup of ricotta with 4 tablespoons of peanut butter, 2 tablespoons of cocoa powder, a teaspoon of vanilla extract, and a little sugar to your liking. You can use up to 2 teaspoons of your sweetener of choice, such as maple syrup or agave nectar or sugar or honey. Blend it thoroughly and add a little more milk if it seems too stiff. I piped it into small dishes and garnished it with dark chocolate bark. Eaten together, the chocolate and the peanut butter ricotta taste just like candy. You can use 1/2 teaspoon of instant coffee powder in place of the peanut butter if that's more your style. This would be so delicious in mini graham cracker crusts with melted chocolate drizzled on top.
Even someone who has never made cheese before can make ricotta right in their own kitchen. Don't be afraid to try. You may discover a new passion for cheesemaking!

This article was also posted, in similar fashion, on our sister-site, www.givemegoats.com