Meringues are a classic cookie made mostly of beaten egg whites and sugar, baked to a light crispy doneness and enjoyed almost guilt-free due to the low calories per cookie. Classic meringues can be finicky to make, though, as they are affected by any tiny speck of grease or egg yolk or even the humidity in your kitchen. While perusing Pinterest one evening, I saw several posts mentioning a "meringue in the microwave" recipe requiring very little time and even less hassle. I had to try that!
Here's the recipe:
Lightly beat one large egg white with a fork. You don't have to whip it, just beat it with the fork to loosen it up.
Mix in 300 grams (about 10 ounces) of powdered sugar. The dough should be a bit stiffer than Play Dough. It will hold its shape readily and be easy to form into balls.
Pinch off a bit of the dough and roll it into a ball about the size of a marble. Don't go any bigger than that – I learned the hard way! These cookies expand a lot.
Place two or three of the little dough balls on a paper-towel lined, microwave-safe plate and microwave on high for about one minute.
Check to see if your cookies are done enough in the middle, and adjust your cooking time up or down as necessary. Microwaves vary quite a bit so feel free to use a few seconds less or more than this. Some recipes I saw said to cook for 90 seconds, but that flat-out burned my cookies. Sadness. 60 seconds was just right for me. Continue microwaving the cookies two or three at a time until the dough is all used up.
Using the size of dough ball shown below, this recipe made about 40 cookies for me, and you can see how much they expanded. Your mileage may vary depending on the size of your dough balls.
Store meringues in an airtight container, preferably in the refrigerator.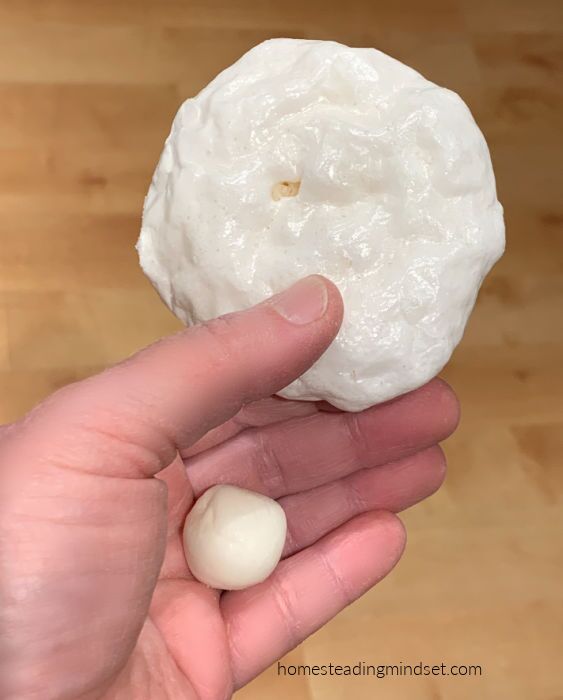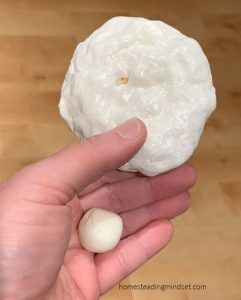 My two-year-old had a good time rolling the dough into balls and "snakes". She thought that was pretty awesome.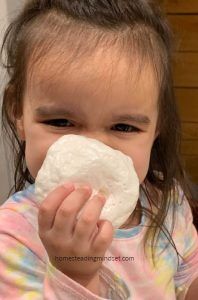 So what did we think of this recipe? I give it a 4 out of 5 stars.
Pros: It's super easy. It's quick. It's inexpensive to make. It makes a lot. The kids can help.
Cons: It's crazy sweet – it really needs something to cut the sweetness (see below).
One delicious way to serve a traditionally-baked meringue is to dip the bottoms in melted dark chocolate. The rich bitterness of dark chocolate would really help with the intense sweetness of this meringue version. I spread one with some tart raspberry jelly, but the jelly was sweet as well as tart, and didn't cut the sweetness as much as I'd hoped. It was tasty, though.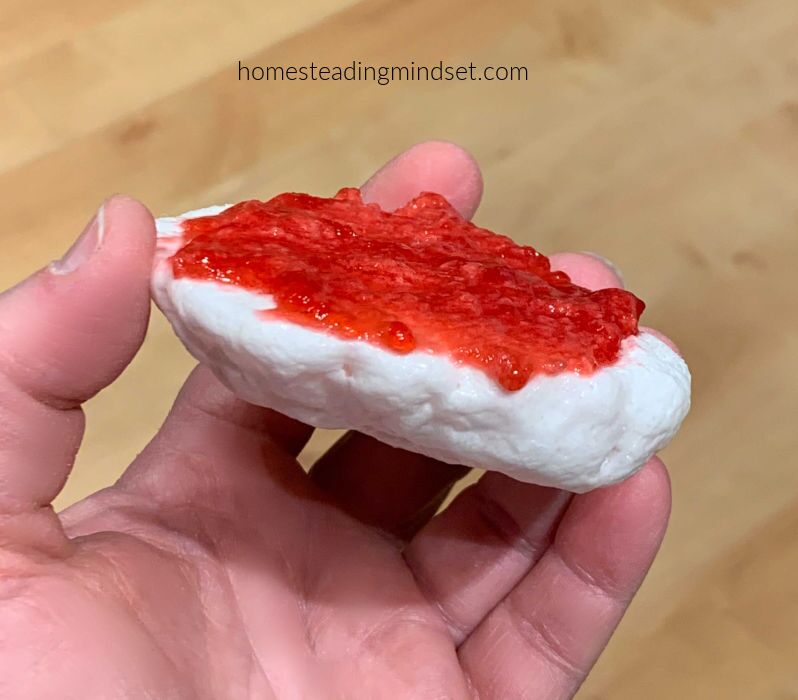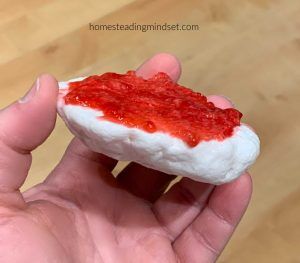 Next time I make these, I think I'll add a little dash of vanilla or better yet, some cocoa powder for chocolate meringues. Ooooh yes, that does sound good!
I can see this little dessert being an impressive crowd pleaser for a last-minute get-together. Have you ever had a pavlova? Pavlova is a delicious, light, fruity dessert made by layering meringue circles with whipped cream and berries. These quick microwave meringues would make adorable individual pavlovas, and your guests could even assemble them themselves with an assortment of fruit to their liking.
Bottom line? Give it a try. You have very little to lose, and it only takes a minute.