"In the summertime, when the livin' is high, you can stretch right up and touch the sky…. " With apologies to Mungo Jerry, here in our little corner of the world, you just about can touch the sky, because it's solid with mosquitoes.
As much as I would like to keep those skeeters away from me and my family while we work and play in the outdoors, I dislike using sprays on our skin. Sometimes you just can't avoid it, but at the same time, I do my best to find other mosquito repellent solutions to protect our skin rather than cover us with chemicals. Here are my favorite ways to keep the bugs gone without sacrificing our precious summer days:
I can't say enough good things about the Thermacell Portable Mosquito Repeller. We've been using these things for… gosh, how long? As near as I can figure, about five years, but honestly it could be longer. They are great for taking along with you where you don't have a way to recharge a battery (like backcountry hiking or fishing trips) and are small enough to be worth the room they require in your pack.
To operate this compact handheld unit, simply place the mosquito repellent mat behind the screen. Remove the cap on the bottom of the unit and insert a fuel cartridge. Turn the unit on by pressing the "Start" button, and then press the striker button three or four times. An orange glow can be seen through the viewfinder on the bottom when the repeller pad is warm and ready to use. This takes about 10 – 15 minutes.
I would definitely recommend you buy the belt holster to go with one of these, unless you buy the fancier model that includes the belt clip. You can certainly carry it easily in your hand, but having it in a holster on your belt or backpack strap means you can keep your hands free for holding your trekking poles – or fishing pole! – while keeping the mosquitoes away from you. Keep in mind that all Thermacell units are designed to be used in outdoor situations, not in tents or enclosed spaces.
The Thermacell MR450 (pictured below) comes with a belt clip, easy-grip case, and visual "ready" indicator that is easier to see than on the MR300 that I own.
Pros: Affordable; portable; easy to hold; available belt holster; 15′ protection zone; repellent mat turns from blue to white when it is time for a new one; scent-free; two-year warranty; safe around pets.
Cons: Different run times for the fuel cartridge (12 hours) and repeller mat (4 hours). This isn't a deal-breaker for me (as the three units I own can attest) but it can be annoying to keep track of the different durations.
I've had my Thermacell E-series repeller for a little over a year now, and I'm quite pleased with it. I appreciate not having to buy a fuel refill for it; I only need to buy repellent cartridges. All I need to power the repeller is the included USB cable and I'm good to go. I can either plug the repeller into an outlet and power it directly, or I can charge up the battery and take it wherever I want. Most of the time I keep it plugged into the wall in my barn feed room when I'm working in there – that room is well-ventilated with doors and windows that are open in the summer – but I can take it with me and set it nearby when I'm working in my garden or playing in the yard with my kiddo. The battery life is a little over 5 hours, which is usually plenty of time for any single day's activity for me, but if you're near an outlet and can leave the unit plugged in, you only need to be aware if the repellent cartridge is empty or not – but with a 12-hour supply of repellent in each cartridge, that's generally not a problem. Audio cues and lights let you know when the unit is low on battery, and when you're fully covered. Remember, though, that all Thermacell units are designed to be used outdoors, not in tents or inside your home.
I own the E55 version, but there is an updated version as well. The new EX series has a locking top (the E series tops are held on by magnets), rubberized case, a longer battery life, and an integrated lanyard/carabiner for carrying. If those things had been available when I purchased mine, I would have bought the EX instead. Since I'm happy with my more basic model, though, I'll just stick with it. However, if you're in the market for one for yourself (and I recommend it), go ahead and get the one with the extra features.
Pros: Cute; portable; lights and audio give feedback on battery status; 20′ protection zone; safe around pets; one-year warranty expanded to two years if registered online.
Cons: The E-series doesn't come with a wall plug. You'll have to buy one yourself if you want to plug it into a wall for charging. Otherwise you'll need to use your computer's USB port.
Other Thermacell products are available in styles that range from handheld to perimeter spikes to lanterns, in rechargeable or fuel-powered models. Check them all out and see which one might suit your situation best.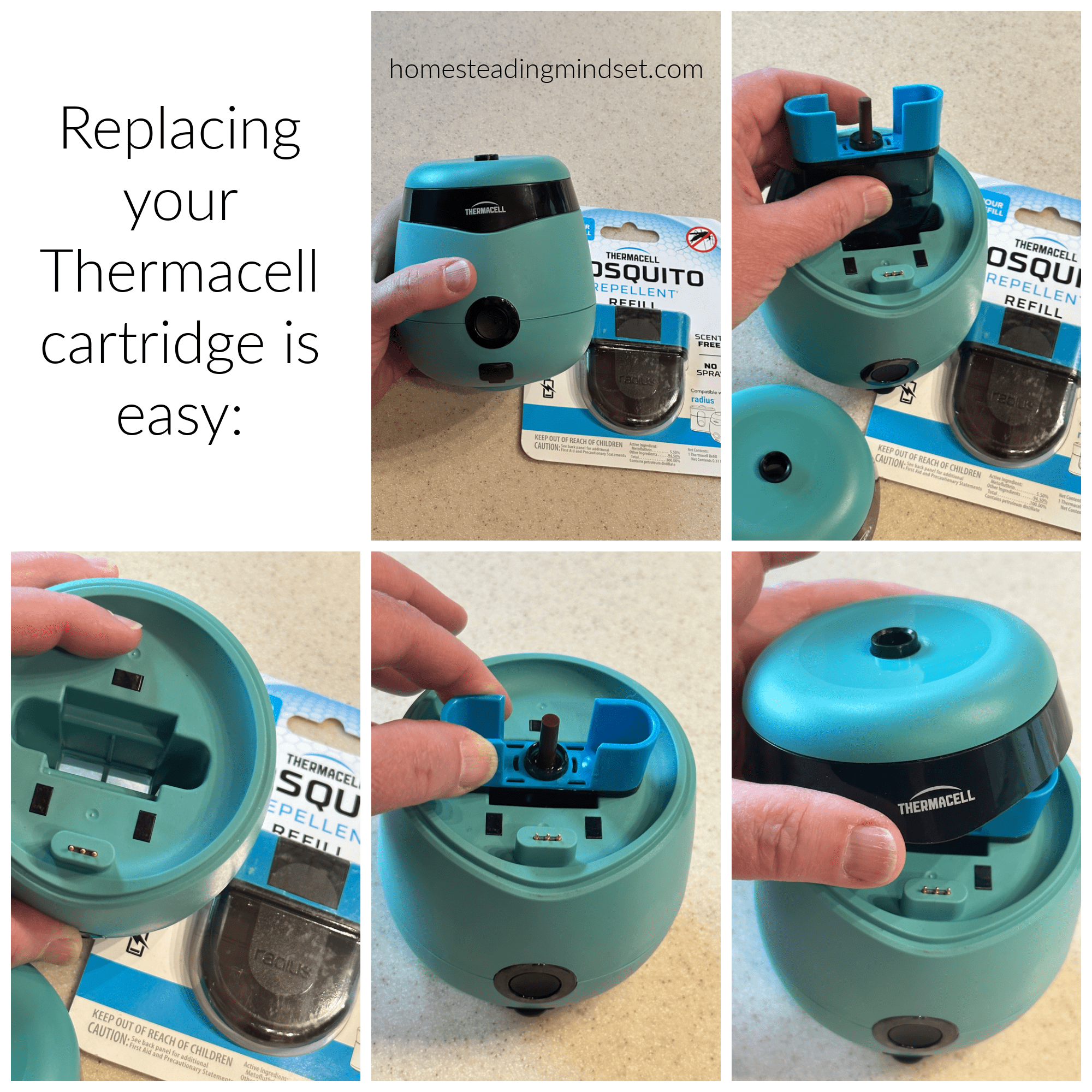 Mosquito coils have been available since… well, since I was a kid, and I'm not about to tell you how old I am. A long time. The reason they've been around so long is that they work, they're cheap, and they're easy to use. You can find them anywhere from grocery stores to convenience stores to hardware stores. Coils can be used pretty much anywhere outdoors, as long as there is minimal to no breeze. Simply light one end of the coil with a match or lighter and allow it to heat up.
Pros: Cheap; readily available; nothing more to buy; coils can be extinguished and relit later if they are not used up by the time you want to go indoors.
Cons: relatively small 10′ protection zone; some people can have breathing problems if using them too often or sitting too close to them while they are burning; short usable time of about 4 hours when lit.
We've own three Mosquito Magnets over the years. When we lived in Texas, we were quite happy with the efficacy of the one we had there. However, since moving to Alaska, we find them inadequate for the job of reducing the mosquito population, and have bought not one more but two, since our move. We gave up on them. I will say, though, that they are good at what they do in less-bug-infested areas, so you might want to look into them for your area if you are more suburban than rural.
Mosquito Magnets work by using an attractant that mimics the breath of warm-blooded critters (like humans!) and once the mosquitoes are trapped inside, gentle heat dehydrates and kills them. This is the only actual deadly-to-bugs system I'll recommend, since it doesn't use a broad-spectrum poison – or any poison at all.


Pros: can protect up to an acre; actually kills mosquitoes (rather than repel them) without poisons.
Cons: Expensive; require propane tanks; if/when they break they are expensive to repair.
I am just going to say it flat out: I don't like skin sprays. They give me the heebie-jeebies and I avoid them whenever I can. Sometimes it can't be avoided, though, and when I have to use them I use the one with the most natural ingredients that I can find. Sometimes during the summers, the sprays are all sold out, and when I can't find a natural one, I buy the one with the least DEET I can get away with.
I am also not a fan of the sprays used by companies that come out and spray your whole yard to kill the mosquitoes. There is no yard spray that kills only mosquitoes – all other insects are vulnerable. I believe we should protect our good bug friends and that means not using widespread insecticides. It's okay if you don't agree with me but do your own homework before hiring a yard sprayer.


As an Amazon Affiliate, I earn through qualifying purchases. This small commission affects your purchase price in no way whatsoever, but it does help me keep the website up. I recommend only products I actually use or products I wish I owned. Thank you for your support!