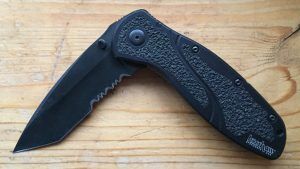 Picking out a pocket knife is as personal as picking out a pair of shoes. Everybody likes something just a little different than the other person, and has a different job they need their knife to do, but everyone wants the sharpest pocket knife that's also easy to use. There is a knife in every style and for every purpose you can imagine – big ones, little ones, single blades, multi-tool, utility, and hunting. There are so many choices, in fact, that picking out a new pocket knife can be overwhelming.
I've had pocket knives ever since I was about 10 or 11 years old (I considered myself quite the whittler in those days), and went through many hand-me-down cheap knives as a youngster. Nowadays I'm much pickier about the hardware I carry, and while I don't let the price tag dictate my choices, I do believe in getting a good value for my money. I have three generations of pocket-knife enthusiasts in my family who have given their input, and I can heartily recommend these knives by people who use them, like them, and would gladly buy them again.

What To Look For In Pocket Knives
No matter what else you need your knife to do, you need it to be SHARP. A dull knife is a dangerous knife. Dull knives force you to push too hard on them, encouraging slippage and cuts. Your knife should be sharp right out of the box, and when it does get dull, it should be easy to sharpen.
The best pocket knives are lightweight, easy to open, easy to close, feel secure and hold a sharp edge. One-handed opening makes tasks easier to accomplish, because you can hold onto your project with one hand and open the knife with the other. The knife doesn't have to be scary looking to be an effective tool, and many manufacturers offer choices of handle styles and finishes that make the knives attractive as well as handy.
If there are pocket clips, they should be comfortably low-profile, so that you don't get blisters while you work. Ideally, the pocket clips could be adjusted for tip-up or tip-down carry, and could be changed to either side of the handle for left- or right-handed carry.
Knives can be as fancy or as plain as you like. The men in my family tend to prefer the pseudo-tactical styles. I like the classic pen-knife styles with bone or wood-look handles that harken back to my youth, or the nice red Swiss Army ones that are easy to find in the bottom of my purse.
Check the warranty on the knife you're considering. A lifetime warranty can make your pocket knife a real investment, even if you have to pay more up front to get it. If you buy a $20 knife at a flea market and break it in a few months, and do this every year, it doesn't take long before you realize you should have bought a good one in the first place.
Keep in mind the types of jobs you'll want your pocket knife to do. Not everyone needs to use their knife for survival… Sometimes you just need a good knife to use as an everyday tool for the same jobs, over and over and over. I use my Victorinox for cutting open buttonholes when I sew and for opening packaging, which makes my little Classic the perfect knife for me. My husband, however, uses his combo-blade Blur as a toolbox companion that does everything from opening hay bales to stripping the coating off of wires. There's no single knife that's perfect for everyone; keep your work in mind when you're making your choice.
Kershaw Blur 1670 Series
The Kershaw Blur is an amazing knife that will go anywhere and do anything.
The handle has Trac-Tec inserts for a secure grip in all weather, and features a Glassbreaker tip on some models. Open this knife as quick as a blur with Speedsafe Assisted Opening. Thumb studs on both sides of the blade allow smooth, fast, one-handed opening no matter which hand you use. The belt clip can be positioned for tip-up or tip-down carry. Many Kershaw models allow the clip to be positioned on either side of the handle.
The Blur comes in a variety of handle finishes and blade styles. My husband carries the tanto blade style.
The blade is Sandvik 14C28N. Swedish manufacturer Sandvik created this metal for it's corrosion-resistant properties at the specific request of Kershaw. It gets extremely sharp while keeping the price point fairly low.
Overall open length is 7.9″; closed length is 4.5″. Weight is 3.9 ounces.
Kershaw knives are USA-made and feature a lifetime sharpening service, and lifetime warranty.
Learn more about the Kershaw Blur in this follow-up, in-depth article by clicking HERE.
To read my comparison of the Kershaw Blur vs. the Kershaw Leek, click here.
Spyderco Delica 4
The Spyderco Delica 4 is available in several different blade styles and handle finishes. While I personally like the plain blades, you can also own a Delica with serrated, combo, or Damascus plain blades. Choose one that fits the job you want it for, and enjoy the option of picking a handle color you like.
The blade features the distinctive "Spyder hole" for one-handed opening, even when wearing gloves.
The pocket clip can be positioned for either tip up or tip down carry, and on either side of the handle for left handers and right handers alike.
The Delica 4 will be super sharp right out of the box. The blade material is VG-10, which can be made extremely sharp while remaining tough under use. Some of the best kitchen knives money can buy are made with VG-10.
The stainless steel model weighs 4.1 ounces. The closed length is 4.2″ and the open length is 7.15″.
Spyderco offers a lifetime warranty.
Buck Knives 110 Folding Hunter

Buck 110 Folding Hunter is a made-in-America, tried-and-true classic. Created in 1963, the Folding Hunter provided outdoorsmen with a smaller yet sturdy knife that didn't require them to carry a fixed blade. The sturdy locking mechanism and timeless good looks have kept this knife a quality standard for over 55 years.
Blade material is 420HC, which is one of the best corrosion-resistant blade steels despite it's relatively low cost. "HC" stands for "high carbon", which makes the steel hard. While it's not as hard as some other metals, 420HC is very easy to sharpen – meaning you won't dread maintaining the edge when it needs it.
The clip blade has a long, thin taper to the tip, making it very handy for making holes.
The Folding Hunter is a sheath knife, although no one will tell you not to drop it into your pocket if that's how you roll. Buck offers engraving on this knife, which makes it a thoughtful keepsake to give as a gift.
The 7.2 ounce weight gives this beauty a little heft. The closed length is 4.875″ and nearly 8.5″ open.
Buck offers a Forever Warranty.
Victorinox Swiss Army Classic
Efficient and compact, the Victorinox Swiss Army Classic is my go-to knife. It's small enough not to make bulges in my pockets and is handy to have in my purse. I don't like carrying a big purse, so everything in there has to have a purpose. With a blade, nail file/nail cleaner, scissor, toothpick and tweezers, the Classic definitely pays the rent on the tiny amount of real estate it takes up in my bag. If you don't want to drop it into your purse or pocket, it has a keyring attachment so you can keep it with your keys. As a professional seamstress, I like to keep a Classic in my sewing room. The little scissors are great for nipping threads and the blade is perfect for opening buttonholes – although remember, this is one of my picks for the sharpest pocket knife list, so don't cut through the end of the buttonhole (voice of experience speaking). This is a good example of picking a knife to match the job it needs to do… The Classic might not be ideal in the barn but it sure is handy in the house.
I have two Classics – one red and one black, but I may "need" to buy a pink one as well. The Classic is available in a wide range of colors.
I know we're talking about knives here, but it's worth a mention that the tweezers are really good tweezers. I've gotten splinters out with my Swiss Army tweezers that I haven't been able to get out with the tweezers in my medicine cabinet.
Blade material is stainless steel.
This mighty mini weighs less than 3/4 ounce, is 2.3″ in the closed position, and 4″ long with the blade open.
Victorinox offers a lifetime warranty against defects in workmanship.
Are Knives Legal To Carry In Public?
Generally speaking, most pocket knives that are obviously intended for utility use, with a blade less than about 3″ long, are fine to carry. Of course, there are places where it isn't legal for any knife to be carried – in a courthouse or on a plane, for instance. When in doubt, ask first.
Not sure what the laws are in your state? I recommend you go here, click on your state, and read the laws that might apply to you.



As an Amazon Affiliate, I earn a commission from qualifying sales. This post contains affiliate links from which I may (or may not) earn a commission, but it does not affect your purchase price in any way.