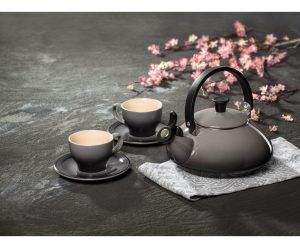 A cozy cup of tea or coffee is one of life's simple pleasures. The right kettle can make it even more pleasurable through comfortable use, fast heating, and easy cleaning. I looked at the best-selling kettles on the market and narrowed down the list to my top four models. You can get high-quality, attractive kettles without breaking the bank – after all, you need to have money left over to buy some lovely tea!
Let's look at my favorite four kettles and what I liked about them:
BEST BASIC DESIGN
T-Fal C76220 3-quart Stainless Steel Whistler
This unassuming kettle doesn't feel the need to draw attention to itself in order to get your water hot, and fast. The lever which opens the pour spout cover is conveniently located where your fingers already are when holding the kettle by the Bakelite handle, making it easy to pour water with one hand. This is the kettle for you if style isn't your first concern and you want a no-muss-no-fuss, get-'er-done way to heat your water.
Pros:
3-quart capacity
easy one-handed operation
lifetime warranty
Cons
BEST FOR ALTERNATIVE COOKTOPS
Willow & Everett 2.75 quart tea kettle
This gorgeous and hefty kettle has a five-ply flat bottom that heats water rapidly and retains the heat for a long time. Have a cup of hot tea now and come back later for a second cup. The heavy bottom keeps the water warm longer than a thin-bottomed kettle ever could. If you like to sip and savor your cuppa, and come back for another one later, you should definitely consider this one.
One-handed operation makes pouring hot water easy. This is not a lightweight kettle, though. If you have compromised wrist or hand strength, this might not be the right one for you.
The bottom on this kettle is wide and flat, which makes it ideal for glass-topped stoves. It works equally well on gas and electric stovetops, as well as on top of a wood stove (take note, off-grid people). As if that weren't enough, it also works on induction cooktops.
Pros:
5-ply, heavy bottom for rapid heating and heat retention
loud whistle
one-handed operation
mirror finish is easy to clean
tea strainer is included
works on induction cooktops
large capacity
Cons:
At 3.75 lbs empty, this is a hefty kettle, and you should keep that in mind if you have poor hand strength
the loud whistle cannot be disabled
BEST SLOW-POUR MODEL
This little cutie is designed for light use and small gatherings. Available in 4- and 6-cup capacities, this is a good kettle for a single person or for a couple. Although there is no whistle on this kettle, there are three small vent holes in the lid through which steam escapes, and the lid itself may rattle to alert you when the water boils. Keep an eye on it to ensure it doesn't boil dry.
The long, narrow spout serves an important function for slow-pouring. Pouring the hot water over the tea leaves or coffee grounds in a slow circular motion from the center outward allows the leaves or grounds to hydrate fully.
If you like the styling of the Fino but 4 cups isn't enough water for you, consider the 6-cup version.
Pros:
long, narrow spout allows for slow pouring
made in Japan
compatible with induction stovetops
weighs less than a pound when empty
ergonomic placement of the handle towards the back of the kettle, as opposed to on top of the kettle, makes for easy pouring
Cons:
no whistle – be alert to avoid boiling dry
recommended to use a hot pad on the lid when pouring, as steam vents are in the lid near the knob
BEST HIGH-END
Le Creuset Enamel-on-Steel Zen 1 2/3 quart
This fun kettle comes in a variety of colors to coordinate with other Le Creuset kitchenware. The stylish, modern shape is a pleasure to leave in plain sight even when not in use. As is to be expected, enamel coatings can chip if not handled properly, so take care not to bang the kettle or let it boil dry. The handle on the Zen can be folded down, which is really nice for getting your hand inside to wipe it dry, and allows you to fill the kettle with water easily.
If you keep your kettle on display in your kitchen, the good looks of the Zen shine in this understated yet classy design. The wide variety of colors available ensures that you'll find one in just the right hue to match your decor.
Pros:
seamless construction
induction cooktop compatible
fold-down handle makes filling and cleaning easy
available in wide range of colors
Amazon's choice
Cons:
hand wash only
whistling spout cover must be manually closed
handle can possibly get too warm for comfortable pouring without a hot pad
Tips for taking care of your kettle: Do not leave water standing in the kettle when not in use. Always wipe down the inside of the kettle to prevent mineral deposits and potential rust spots. Don't overfill your kettle. Follow your manufacturer's instructions for filling, using, and cleaning. Never heat an empty kettle. A little care will help your kettle last a long time and give you trouble-free use, pot after pot.


As an Amazon Associate, I earn from qualifying purchases. This post contains affiliate links from which I may, or may not, earn a small commission. This does not affect your purchase price in any way.
Featured photo courtesy of Le Creuset of America, and used by permission.
SaveSave
SaveSave
SaveSave
SaveSave
SaveSave
SaveSave
SaveSave